GENSUI SHUZO Co.,Ltd. is located in Kurayoshi City, central Tottori Prefecture in the San-in region.
The main store is located at the foot of Mount Utsubuki, which is famous for the legend of Kurayoshi Tennyo, along the Tamagawa River in the corner of a group of storehouses with white walls.
Founded in the Kaei era, the name of the sake was initially "Asahi Masamune".

In May 1907, during Prince Togu's (later Emperor Taisho) visit to the San-in region, Admiral Togo Heihachiro accompanied him, stayed in Kurayoshi, and "Asahi Masamune" brewed by Kuratsu Main Store (later Gensui Sake Brewery) was offered.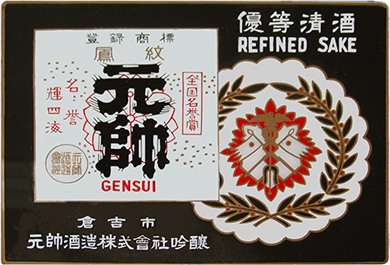 △ Label with the Order of the Golden Kite design
Kurayoshi is famous for cherry blossoms, and Utsubuki Park was constructed in time for this visit, and a stone monument commemorating the planting is still standing in the corner of the park.

In April 1913, when General Togo received the title of "Gensui", the name of the sake was changed to "Gensui" in honor of his visit.

Since then, the company has worked hard to study traditional techniques and technologies, and has been engaged in ginjo brewing for a long time. In the early Showa period, the brewery was awarded the national honorary prize at the National Sake Competition, and more recently it has won five gold medals and two prizes at the National New Sake Competition, as well as numerous local honors.

While people are talking about the decline of Japanese sake, we are striving to make sake with the catchphrase "bring moisture to your life.
Introduction of the main store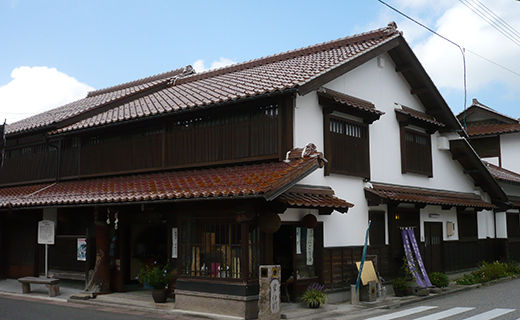 Storehouses with white walls "Shirakabe Dozo-gun" are one of the beautiful sights of Little Kyoto "Kurayoshi". Many of the white walled storehouses lined up along the Tamagawa River were built in the Edo and Meiji periods, and you can still see the vestiges of those days. As you walk along the stone bridge over the Tamagawa River and the calm, elegant streets with red tiles and white plaster walls, you can feel the time slowly passing by.

In the corner of these white walled storehouses is the "Gensui Honten". It is a place with 160 years of tradition in a natural setting. Inside the store, you can find a variety of products from the Gensui Sake Brewery.

The current brewery is a three-minute drive in the direction of the Misasa Line, and in a well-developed environment, we are brewing sake that preserves the techniques handed down from generation to generation, and above all, the natural flavor.
Company Name
GENSUI SHUZO Co.,ltd.
Founded in
Kaei era (1848-1854)
President and CEO
Yoshiyuki Kuratsu
Toji
Atsuyuki Nishizawa
Location
【 Main Shop 】 2573 Higashinakamachi, Kurayoshi City, Tottori Prefecture 682-0826

【 Sake Brewery 】 2-31 Dakyoji-cho, Kurayoshi City, Tottori Prefecture 682-0816
TEL / FAX
【 Main Shop 】
TEL.+81-0858-22-5020 / FAX.+81-0858-22-5021
Introduction of the access
Access
Main Shop
2573 Higashinakamachi, Kurayoshi City, Tottori
Prefecture 682-0826
About 12 minutes by bus from JR Kurayoshi Station + 5 minutes walk
JR Kurayoshi Station ⇒ Get off at Akagawara Shirakabe Dozo-gun / Nihon Kotsu Hojo Line bound for Nishikurayoshi
Sake Brewery
2-31 Dakyoji-cho, Kurayoshi City, Tottori
Prefecture 682-0816
About 15 minutes by car from JR Kurayoshi Station